How much does Bankruptcy Cost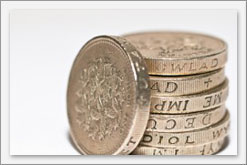 The cost of bankruptcy depends on whether you live in England and Wales, Northern Ireland or Scotland.
What does it cost to go Bankrupt?
Can you borrow to pay the fee?
How to save the cash to pay your fee
Can you get help with paying for Bankruptcy
Do you want help to go bankrupt? Give us a call (0800 044 3194) or complete the form below to speak to one of our experts
What does it Cost to go Bankrupt?
In England and Wales the cost of Bankruptcy is now £680 per person. This is made up of an Application Fee of £130 and a Bankruptcy Deposit of £550.
This fee must be paid in full before you submit your application. It can be paid via the Government's on-line application system using a debt, credit or prepaid card. Alternatively you can pay with cash at any NatWest branch.
You can pay the fee in instalments if you use the online system. Payments of as little as £5 can be made. However you will not be allowed to submit your application until the whole fee is paid.
The information here relates to Bankruptcy in England and Wales. In Northern Ireland and Scotland the costs and process are different.
Borrowing money to pay your Bankruptcy Fee
It is unlikely that any of your creditors will make you bankrupt. As such if you have decided to use this solution you will normally need to find the money to pay for it yourself.
You are allowed to borrow to pay your fee. If you have available space on your credit card it is perfectly acceptable to use this. You could use your overdraft or consider taking a Payday loan.
Alternatively you could borrow from family or friends. However if they expect to be repaid you must warn them that you will not be able to do this until after your bankruptcy is finished.
Borrowing more to pay for bankruptcy may seem wrong. However this will not be held against you. By borrowing a little more you are taking positive action to resolve your debt problem once an for all.
How to save money to pay for Bankruptcy
You may not be able to borrow. As such the alternative is to save the money you need. However saving if you are already struggling financially is difficult. One way around this is to stop paying your unsecured creditors.
Instead of paying your debts save this money towards the fee. Of course when you stop paying you will start getting payment demands. However if you explain you are going bankrupt very often your creditors will put your account on hold.
If you own a car worth more than £1000 you could consider selling it before you go bankrupt. You can then buy a cheaper car and put any money left towards the cost of your bankruptcy.
If you are paying your bankruptcy fee via the on-line system you can pay in instalments. This is very helpful if you are saving the money you need.
Can you get help with paying for Bankruptcy?
Unfortunately there is no way to reduce the cost of the bankruptcy fee. Everyone has to pay the full amount. However if you are on a low income or suffering real financial hardship you may be able to get help.
There are a number of charitable organisations which will pay the fee on behalf of individuals in special cases. If you simply cannot get together the money you need by borrowing or saving it is worth investigating these.
The charities and utility companies currently known to Bankruptcy Expert who do offer such funds or help are as follows:
Arrange a call with a Bankruptcy Expert
Privacy Policy
Your information will be held in strictest confidence and used to contact you by our internal team only. We will never share your details with any third party without your permission.