How much does Bankruptcy cost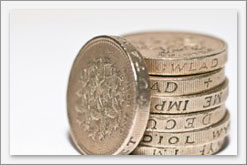 Before you submit your Bankruptcy application you have to pay a fee. If you do not have the required cash there are various options you can consider to cover the cost.
Included in this article:
Rather speak to a person? Call 0800 044 3194 or fill in the form below and we'll call you
The information given on this page relates to England or Wales. The cost of going bankrupt in Northern Ireland and Scotland is different.
What does it Cost to go Bankrupt?
In England and Wales the cost of Bankruptcy is now £680 per person. This is made up of an Application Fee of £130 and a Bankruptcy Deposit of £550.
This fee must be paid in full before you submit your application. It is normally paid via the Government's on-line application system using a debt, credit or prepaid card. Alternatively it can be paid in cash at any branch of the NatWest bank.
The fee can be paid in instalments of as little as £5 if you are using the on-line payment system. However you will not be allowed to submit your application until the whole fee is paid.
The bankruptcy fee can be paid in installments. However your application cannot be submitted until it is paid in full.
Borrowing money to pay your Bankruptcy Fee
It is possible to borrow to pay your fee. It is acceptable to use your credit card, overdraft facility or a Payday loan. This additional debt is then included in the bankrupcy.
Borrowing more in this way to cover the cost of bankruptcy may seem wrong. However it is not generally held against you because the sole purpose of this minimal extra borrowing is to prevent your debts overall from becoming any worse.
You can also borrow from family or friends. However if they expect to be repaid you must warn them that you will not be able to do this until after your bankruptcy is finished.
It is unlikely that any of your creditors will make you bankrupt. As such you will usually need to find the money to pay for it yourself.
Saving or selling assets such as your Car to pay for Bankruptcy
You could save money to pay for bankruptcy. Of course saving if you have no spare cash is difficult. One thing that might help is to stop paying your unsecured debts. This money can then be put aside to help fund the fee.
If you do not pay your creditors you are likely to start getting payment demands. If so explain you are going bankrupt and ask for your account to be put on hold. Must creditors will help you in this way.
Where your car is worth more than £1000 it is likely you will have to sell it and get a cheaper one once you are bankrupt. As such consider selling it beforehand. The money raised from the sale can be used to buy a cheaper vehicle and cover the cost of your bankruptcy.
If your car is worth more that £1000 consider selling it before you go bankrupt. The funds raised can be used to buy a cheaper vehicle and pay your bankruptcy fee.
Can you get help with paying for Bankruptcy?
Unfortunately there is no way to reduce the cost of the bankruptcy fee. Everyone has to pay the full amount. However if you are on a low income or suffering real financial hardship you may be able to get help.
There are a number of charitable organisations which will pay the fee on behalf of individuals in special cases. If you simply cannot get together the money you need by borrowing, saving or selling assets it is worth investigating these.
The charities and utility companies currently known to Bankruptcy Expert who do offer such funds or help are as follows:
Arrange a call with a Bankruptcy Expert
Privacy Policy
Your information will be held in strictest confidence and used to contact you by our internal team only. We will never share your details with any third party without your permission.