Interview with the Official Receiver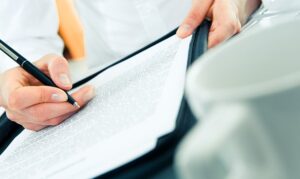 The person who manages your Bankruptcy is called the Official Receiver (OR). It is their job to decide what will happen to your assets such as a property or car. They will also work out if you have to pay anything towards your debts.
The Official Receiver will want to have an interview with you shortly after you have gone Bankrupt. Normally they will call you within a couple of days to agree a mutually convenient time for you to speak to them.
What happens at the Official Receiver Interview?
It is likely that you will have your interview with the Official Receiver over the telephone. It will take around an hour. They will want to go through all the information you have included in your Statement of Affairs. They will ask you any questions that they feel are relevant to help them understand your circumstances.
Generally the OR will focus on a few particular areas. These will include amount of debt you owe and what the money was spent on. Also your income, living expenses and your assets. It is useful to have a copy of your Statement of Affairs document to hand when you speak to the OR so you can refer to it if necessary.
BE Tip: It is possible to request a face to face meeting if you like but there is generally no need for this. The only time when the OR may request a face to face interview is if you are self employed or have been in the recent past.
Do you want help to go bankrupt? Give us a call or complete the form below to speak to one of our experts
What paperwork will the Official Receiver ask for?
The OR can ask you for any paperwork they feel necessary to confirmation of the information you have provided in your Statement of Affairs. However as a minimum you should expect to be asked for copies of your credit card and bank statements for the past 12 months.
If you have not kept the last 12 months of you bank or credit card statements. do not worry. You just need to explain this to the Official Receiver. They will be able to get copies of the documents from the banks themselves if necessary.
Can you discuss buying back the Beneficial Interest in your Property?
If you are interested in buying back the beneficial interest in your property you should speak to the Official Receiver about this during the interview. The OR will normally not bring this up. As such it is important that you mention it.
If your property is in negative equity and you want to buy back your beneficial interest you must expect to pay the official receiver £1000 plus the solicitor's fees. If it is in positive equity you will have to pay the value of your share of the equity plus solicitor's fees.
Going Bankrupt in Scotland
The information given on this page is relevant to the bankruptcy application process in England, Wales & Northern Ireland. For further information about the process in Scotland see:
Arrange a call with a Bankruptcy Expert
Privacy Policy
Your information will be held in strictest confidence and used to contact you by our internal team only. We will never share your details with any third party without your permission.