Paperwork Required if you go Bankrupt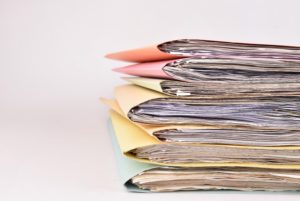 Once you go bankrupt the Official Receiver (OR) will review your circumstances. They may ask you to provide various paperwork.
Want help to go bankrupt? Give us a call (0800 044 3194) or complete the form below to speak to one of our experts
What Paperwork do you have to provide if you go Bankrupt
After you go bankrupt you will have an interview with the Official Receiver (OR). During this you will be asked about the background to your debts. The OR will also want to know about your assets, income and expenses budgets.
You may be required to provide various paperwork to confirm the information you have given. There is no set list. However as a rule of thumb this could include your last 12 months bank and credit card statements.
In addition you may be asked for confirmation of your income in the form of your last 3-6 months wage slips. If you receive benefits you may be asked for recent statements.
If you do not have all of the paperwork you are asked for do not panic. Simply explain the reason to the OR. They will normally help find a work around.
The Documents that will be required if you are Self Employed
If you are self employed it is more difficult for the Official Receiver to establish your ongoing income. They will want to understand the average monthly amount you are able to draw from your business.
As such you should be ready to provide a record of your business income and expenses for the last 6 months. You may also be asked to provide previous years business accounts or tax returns.
If the income on your last tax return is significantly different to that which you have been able to draw in the last 6 months you need to ready to explain this. Where it has dropped the OR will want to know why.
If your income is likely to fall in the next few months mention this to the OR. Make sure they base any Income Payment Agreement calculation on your expected future drawings.
Do you need a Valuation of your Property?
If you are a home owner it is likely that you will want to buy back the interest in your property. In order to do this you will need to establish its value so you can calculate the amount of any equity.
You will need to get a valuation in writing. The cheepest way of doing this is to ask a local estate agent. Make sure you ask for a quick sale valuation. In other words what would the value have to be to sell the property within 3 months?
If based on an estate agents valuation there is more equity then you thought you should get a second opinion. In certain circumstances it might also be useful to pay a valuer.
Contact us if you need help to buy back the beneficial interest in your property from the Official Receiver.
Always get a local estate agent to value your property before you go bankrupt. This way you can be sure of the value of any equity before you go through the process.
Arrange a call with a Bankruptcy Expert
Privacy Policy
Your information will be held in strictest confidence and used to contact you by our internal team only. We will never share your details with any third party without your permission.