What Paperwork will be required if I go Bankrupt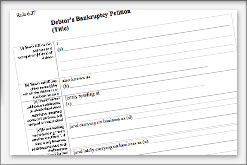 The only paperwork you will have to take when you go to the Bankruptcy Court is your completed application forms. Generally you must have three copies of each of these. Other than that you should not need to take anything else with you.
Once you have been declared bankrupt the Official Receiver (OR) will ask you for some additional paperwork. There are no hard and fast rules about the type and amount they will ask you for. However they will usually want copies of your bank and credit card statements for the last 12 months.
Bank Statements and Credit Card Paperwork
The OR is likely to ask you to provide copies of your last 12 months bank statements. They will review these to confirm the major living expenses you have included in your Statement of Affairs form. They will also be looking to see if you have recently received or paid out any unusual sums of money. If you have they are likely to question these.
BE Tip: If you are renting your home the Official Receiver may ask you to provide them with a copy of your rent agreement. This is so they can confirm the rent you are paying.
It is also normal for the Official Receiver to ask you to provide copies of your last 12 months statements for each of your credit cards. These enable them to review your recent expenditure patterns. They may question you about any unusual or significant purchases.
Do you want help to go bankrupt? Give us a call or complete the form below to speak to one of our experts
Paperwork confirming your Income
The Official receiver may ask for confirmation of your income. If you are employed they could ask you to provide copies of your wage slips for the last 3 to 12 months. They may also ask for benefits statements if you are receiving benefits.
If you are self employed it is likely that you will be asked to provide copies of your tax returns for the last 2 years. You will also need to provide your business accounts.
Will you need a Home Valuation?
If you are a home owner the OR will not automatically ask you to provide a valuation of your property. However it is a good idea to have one. You might be interested in buying back your beneficial interest in the property. You will need a local estate agent's valuation to be able to prove the value of the property before you can do this.
If the OR wants to verify the value of your property they could arrange for their own valuation to be carried out. However this would be unusual if you have provided a reasonable independent valuation that they can rely on.
BE Tip: It is always sensible to get a local estate agent to value your property before you go bankrupt. Even if you believe that your property is in negative equity it is important to confirm this so you can be sure. If you go bankrupt and then find out that your property is worth far more than your thought it could be at risk.
Arrange a call with a Bankruptcy Expert
Privacy Policy
Your information will be held in strictest confidence and used to contact you by our internal team only. We will never share your details with any third party without your permission.