How long does it take to go Bankrupt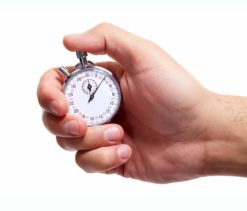 Bankruptcy can be implemented very quickly. After submitting your application form you will normally be declared bankrupt the next working day.
Making the Decision to go Bankrupt
Completing the Application Form
When will you be made bankrupt
When will you hear from the Official Receiver?
Want help to go Bankrupt? Give us a call (0800 044 3194) or complete the form below to speak to one of our experts
The information given on this page relates to going bankrupt in England or Wales. The time it takes to go bankrupt in Northern Ireland and Scotland is different.
Making the Decision to go Bankrupt
Deciding to go bankrupt should not be taken lightly. Before making any decision you must find out how it will affect you. Take your time and review the impact it will have compared to other debt solutions.
You need to consider the implications for your property particularly if you are a home owner. In addition think about the affect on any other valuable assets you own such as your car.
It is also sensible to think about whether you will have to make ongoing payments towards your debts. If you have disposable income you are likely to be required to do so for 3 years.
You might decide to go Bankrupt very quickly. You might need more time to think. Speaking to one of our Experts can really help you with this process.
How long does it take to complete the Bankruptcy Application Form
In England an Wales you no longer apply for Bankruptcy at the Court. Your application is submitted on-line via the Government's Bankruptcy website. You first have to register to gain access to the application form.
The form requires information about four key arears of your financial situation. The amount of debt you owe and to whom; Your income; Your living expenses and your Assets.
If you have all of this to hand it will normally take between 3-4 hours to fill out. You can save your information, log out and then log in again at a later date if you wish.
Before you can submit your form you will need to pay the application fee. Saving for this can take a some time. The fee can be paid in installements but your application cannot be submitted until it is paid in full.
When will you be made Bankrupt
Once you have submitted your application it is reviewed by the Office of the Adjudicator. Officially they have up to 28 days to do this. However it normally takes place within 1-2 working days.
If the Adjudicatior has any questions about the information you have provided they will contact you and ask. This is usually via e-mail. Your application will then be suspended until you respond.
If they have no further questions you will be made bankrupt immediately. As such where there are no questions you will normally be made bankrupt within 1-2 working days of submitting your application.
The Adjudicator is unable to give advice on completing your application. If you require help please contact us about our Bankruptcy Assistance Service.
When will you hear from the Official Receiver?
Once you are bankrupt your circumstances will be managed by the Official Receiver (OR). Generally speaking an Examiner from the OR's office will contact you within a week of your bankruptcy date.
They will want to arrange a time have an interview with you so they can understand more about your situation. This will normally take about an hour and be conducted on the telephone.
The Examiner will speak to you about your debts and how they came about. They may also want to clarify information about your assets, income and living expenses budget.
If you are a sole trader or owe a considerable amount to HMRC the OR might want to interview you face to face. You can agree a mutually convienine time and date to do this in one of their local offices.
Arrange a call with a Bankruptcy Expert
Privacy Policy
Your information will be held in strictest confidence and used to contact you by our internal team only. We will never share your details with any third party without your permission.