Go Bankrupt in Northern Ireland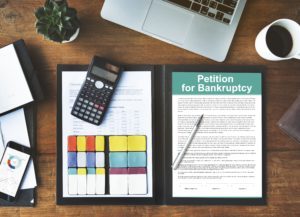 If you live in Northern Ireland you must apply to go Bankrupt at the Royal Courts of Justice in Belfast. The following steps required.
Jump to article contents:
Want help to go bankrupt in Northern Ireland? Give us a call (0800 044 3194) or complete the form below to speak to one of our experts
Complete your Bankruptcy Application Forms
To go bankrupt in Northern Ireland you will first need to complete two application forms. The first is the Petition form (known as form 6.30). The second is the Statement of Affairs (Form 6.31).
If you want a copy of these forms please send us an e-mail. Use the "E-mail our experts" button in the left hand column (or at the bottom if you are using a mobile device).
The larger of the two is the Statement of Affairs. This is 30 pages long and requires you to give all the details of your financial situation including your debts, income, living expenses and any assets that you have.
It is vital that you complete the information in your Statement of Affairs form correctly. The Court cannot advise you about how to do this. If you would like help please ask us about our Bankruptcy Assistance Service.
Pay the Bankruptcy Deposit Fee
Once your forms are completed the next step is to pay the first part of the required fee. This is known as the bankruptcy deposit. It is £525 and will always have to be paid regardless of your circumstances.
The easiest way to do this is by using the Government's online payment system. However you can also pay in cash by visiting the Official Receiver's office in person (Fermanagh House, Ormeau Avenue, Belfast. BT2 8HY).
The first two pages of your Statement of Affairs (Form 6.31) comprise an Affidavit. If you pay your bankruptcy deposit online you will need to employ a local solicitor to witness your signature on this document. They will normally charge £7-£10.
If you pay your bankruptcy deposit at the Official Receiver's office an officer of the court will be able to witness your Affidavit signature for free.
Submit your Application to the High Court in Belfast
You are now in a position to submit your application. This has to be done in person at the Northern Ireland Bankruptcy and Companies Office at the High Court in Belfast (see address below).
When you go you must make sure you take the following documents with you: 4 x copies of form 6.30; 1 x copy of form 6.31 (witnessed by a solicitor or officer of the court); The payment receipt for your bankruptcy deposit.
You will see a clerk who will take your completed forms and ask to see your bankruptcy deposit receipt. You will then have to pay an additional Court Fee of £127 (although this might be waived if you are on a low income).
Given that your forms are in order you will be given a date and time for a Court Hearing. This will not normally be on the same day. You must be prepared to return to the court at a later date.
The High Court is located in the Royal Courts of Justice, Chichester Street, Belfast. BT1 3JF. Tel: 028 9023 5111. It is normally open between 9am-5pm Monday to Friday. You can visit without making an appointment.
Go to your Bankruptcy Hearing
You must return to the High Court on the date and time of your Hearing. This sounds very formal. However it actually consists of a private meeting with a Judge which should take no longer than 10 minutes.
The Judge will not normally be interested in your financial details. They will usually ask you if you understand the implications of Bankruptcy and whether you have taken advice about alternative debt solutions.
Given that they are happy that you understand what you are doing the Judge will make you bankrupt there and then.
The Judge is unable to give you in depth advice about which debt solution you should use. You should make sure that you speak to us about your options before submitting your application to the Court.
Your Official Receiver Interview
Once you are Bankrupt the Court will pass your details on to the Official Receiver (OR).
The OR will review your circumstances and make a decision about whether you can afford to make a payment towards your debt each month. They will also consider what should happen if you own valuable assets such as a property.
You may be required have a telephone interview. If the OR feels this is necessary they will contact you shortly after you are declared bankrupt to arrange a suitable date and time.
The Official Receiver will advertise your bankruptcy in the Belfast Telegraph. This will normally be in the Friday edition after the date you were declared bankrupt.
Arrange a call with a Bankruptcy Expert
Privacy Policy
Your information will be held in strictest confidence and used to contact you by our internal team only. We will never share your details with any third party without your permission.