Complete your Bankruptcy Application Form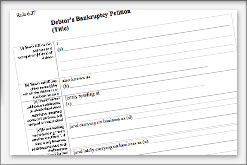 If you have decided to go Bankrupt you will first need to complete an application form. It is very important that the information you give on the form is correct.
How to complete your Bankruptcy Application Form
When are you declared Bankrupt?
Could your bankruptcy application be rejected?
Do you want help to go bankrupt? Give us a call (0800 044 3194) or complete the form below to speak to one of our experts
The information on this page refers to bankruptcy in England and Wales. If you live in Northern Ireland or Scotland the process is different.
How to complete your Bankruptcy Application Form
You must complete your bankruptcy application form using the Government's on-line system. As such before you can start you will have to create an account. To do this you will need to have access to your e-mail.
The application form has 8 sections and is comprehensive. You are required to give information about your debts, income, living expenditures and assets. These include any vehicles and property you own or use.
To find out more about the information you will have to provide you can download a paper version of the form. Go to this page: The Steps to go Bankrupt and click on the "Download Bankruptcy Forms" button.
It is important that you complete your application form correctly. The information you provide will be used by the Official Receiver to assess your assets and decide what you will have to pay towards your debts.
The Adjudicator is unable to give advice on completing your on-line application. If you feel that you require help please contact us about our Bankruptcy Assistance Service.
When are you declared Bankrupt?
Once you have completed your application form and paid your fee you will have to submit it via the on-line system. Since the 6th April 2016 there is no longer a requirement to go to Court in person.
The information you have submitted is then reviewed by the Adjudicator. They will decide whether you should be made bankrupt. If they need more information they send you an e-mail with their questions. You will have to respond via e-mail.
The Adjudicator has up to 28 days to consider your application. In most cases they will accept it and declare you bankrupt within 2 working days. However if they have additional questions the process could take longer.
Once you are declared bankrupt you will receive an e-mail confirming this. A confirmation letter and copy of your Bankruptcy Order will be available for you to download from the on-line system.
Could your Bankruptcy Application be rejected?
Your Bankruptcy application will not be accepted automatically. The Adjudicator could reject it if they feel that you do not qualify or it is not a suitable solution for you.
They may feel the solution is unsuitable if they believe you are in a position to repay your debts. They may consider an alternative solution such as a DRO would be a better option for you. In addition you may not qualify if you do not live in the UK.
If your application is rejected you will be informed on this by e-mail. Part but not all of the fee you have paid will be refunded to you. You will then need to consider an alternative solution.
Arrange a call with a Bankruptcy Expert
Privacy Policy
Your information will be held in strictest confidence and used to contact you by our internal team only. We will never share your details with any third party without your permission.