How much Debt is needed to go Bankrupt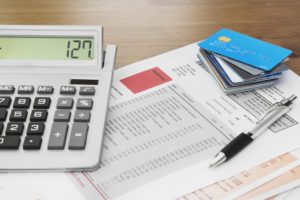 There is no minimum amount of debt needed to go bankrupt. However if you owe less than £20,000 a Debt Relief Order might be a better option.
Want help to go bankrupt? Give us a call (0800 044 3194) or complete the form below to speak to one of our experts
How much Debt do you need to go Bankrupt?
There are no limits on the amount of debt you need before you can apply for bankruptcy. In addition there is no ideal amount. You just have to owe at least £750.
Whether or not it is suitable for you will largely depend on your wider financial circumstances. Important factors to consider are how much (if anything) you can afford to pay to your creditors each month and the assets you own.
Having said that it is extremely unlikely that bankruptcy will be suitable if your debt is only a few thousand. One of the main reasons for this is the up front cost.
Since October 2016 an individual creditor must be owed at least £5000 before they can try to force you to go bankrupt.
What type of Debt can you include in Bankruptcy?
When thinking about whether you owe enough for bankruptcy to be a sensible option remember to distinguish between secured and unsecured debts. Only unsecured debts can be included in the process.
Debts secured against property or goods such as a mortgage or car finance agreement cannot be added. You would still need to maintain the payments towards these or the things they are secured against could be repossessed.
If you are struggling to pay your mortgage bankruptcy could still help. It will reduce the payments required towards your unsecured debt and thus free up cash so you can pay your mortgage on time.
If you are a home owner with equity in your property it could be at risk if you go bankrupt. Speak to us about your options before taking any further action.
Should you go Bankrupt if you owe less than £20,000?
If your unsecured debts are less than £20,000 before deciding to go bankrupt you should also consider a Debt Relief Order (DRO). This solution gives a similar outcome but is much cheaper to implement.
It could be a better option for you if you have little or no surplus income and it would take you a long time to save the required fee to go bankrupt.
However a DRO is not available to everyone. Before you can apply you need to meet all of the four strict qualification criteria:
Your unsecured debts must be below £20,000
You must be renting your home
Your car must be worth less than £1000
Your disposable income must be less than £50 a month.
If you do not meet all the criteria required for a DRO the option is not available to you. Bankruptcy may then be the next best solution.
Arrange a call with a Bankruptcy Expert
Privacy Policy
Your information will be held in strictest confidence and used to contact you by our internal team only. We will never share your details with any third party without your permission.