Self Employed – Can I go Bankrupt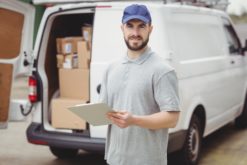 If you are self employed you can continue to run your business if you go Bankrupt. However there are various implications to be aware of.
Can you go Bankrupt if you are Self Employed?
Are you allowed to keep your Vehicle and Tools?
What happens to your business debts?
How does Bankruptcy affect your business bank account?
Want help to go bankrupt? Give us a call (0800 044 3194) or complete the form below to speak to one of our experts
Can you go Bankrupt if you are Self Employed?
If you go bankrupt you are allowed to continue running your self employed (or sole trader) business.
You must trade in your own name while you are Bankrupt. You can use a trading name but only if it is preceeded with your own name. or example John Smith trading as Easy Cleaning Services.
If you rent a business premises this should not be affected by bankruptcy. You are allowed to keep paying the rent as part of your regular business expenses. If you do not tell your landlord they are unlikely to find out unless they are one of your creditors.
If you are a sole trader your personal and business credit rating is one and the same thing. Bankruptcy negatively affects your credit rating for 6 years. This will stop you from borrowing for your business. You will no longer be able to use a business overdraft facility or credit account with a supplier.
 Are you allowed to keep your Vehicle and Tools?
Generally speaking you will be allowed to keep the tools you require to run your business.
This includes a vehicle such as a van even if it is worth more than £1000.
What happens to Self Employed Business Debts?
If you go bankrupt you have to include all the unsecured debts you are personally liable for. You are not allowed to leave any out. As a self employed person you are liable for any debt you have taken out in the name of your business. As such all of these business debts will be included.
Generally speaking this is not a problem. Bankruptcy will write off any problem debts owed to the bank or HMRC. However there could be an issue in terms of the credit facilities you use for running your business.
Any debt you owe to suppliers will also have to be included in the procedure. They are then likely to withdraw your credit facility. In the same way you will no longer have access to a credit card. This may hinder your ability to run your business.
BE Tip: If you no longer need your business premises and are looking for a way out of your lease bankruptcy might be the perfect solution. Any liability for ongoing rental payments after leaving the premises is included in the process and written off.
How does Bankruptcy affect your Business Bank Account?
If you go Bankrupt it is likely that you will have to change both your personal and business bank account. The reason for this is that many banks will not want to keep either account open for you. However as a self employed person you do need an account.
The good news is that there are some banks which will allow you to bank with them. These include Barclays, Co-Op and Metro Bank. The advantage of opening an account with one of these banks is that it will be free. Alternatively you could open a managed bank account. However a monthly fee is payable to keep these open.
BE Tip: You may not be allowed to open a specific business account with any bank. If this is the case the best option is to open a second personal account in your own name. You can then use this to run your business.
Arrange a call with a Bankruptcy Expert
Privacy Policy
Your information will be held in strictest confidence and used to contact you by our internal team only. We will never share your details with any third party without your permission.