In the Armed Forces – Can I go Bankrupt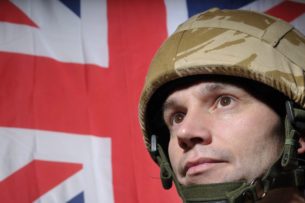 People in the armed forces whether army, navy or air force can go bankrupt to resolve a debt problem.
Included in this article:
Need help? Rather speak to a person? Call 0800 044 3194 or fill in the form below and we'll call you
Can you go Bankrupt if you are in the Armed Forces?
If you are in the armed forces and struggling with debt you are not alone. Many service men and women and their family members get into financial difficulty every year.
Given your employer and job you may think that you cannot go Bankrupt. However this is not the case. Bankruptcy is certainly one of the options you can consider for resolving a debt problem.
Contrary to popular belief if you go bankrupt you will not be at risk of being dismissed from your post. However you do need to take certain steps before you go through the process.
You are allowed to go bankrupt if you work in the Armed Forces.
How to go Bankrupt if you are in the Armed Forces
Before submitting your bankruptcy application you must first speak to your superior. Let them know that you are struggling with debt, have taken professional advice and believe bankruptcy is the most suitable solution.
Clearly speaking to a superior about your financial situation is not something you will look forward to. However they are very likely to have come across the problem before. They will normally just want to make sure you take positive steps to resolve the problem.
You need to explain to them that you have taken debt advice and bankruptcy is the most appropriate solution. They are then unlikely to have any further issue.
Speak to a superior or your personel department before going bankrupt. As long as you have taken debt advice they should not have an issue with your decision to go bankrupt.
What will happen to your Armed Forces career if you go Bankrupt?
Bankruptcy should not have a long term effect on your career. You will certainly not be at risk of losing your job. However you may be prevented from getting a promotion while you are bankrupt.
Usually this will not cause you a significant issue because bankruptcy normally lasts for just 12 months. You will then be autmatically discharged and any bar on your promotion lifted.
For this reason most people who go bankrupt while working in the forces find there is no affect on their career in the medium to long term.
If your Partner is in the Forces will they be affected if you go Bankrupt?
Bankruptcy is an individual debt solution. Your partner or spouse is not included in the process. They will not be required to make any payments towards your debts and their credit rating is not affected.
Given this if your Partner is a member of the armed forces they do not have to worry if you go Bankrupt. It will not have any effect on them or their career.
Having said that you will need to consider the implications if you are joint home owners. In these circumstances they need to be aware of the potential implications for your property.
If you have joint debts your partner will remain liable for these if you go bankrupt. In these circumstances get advice from us before you apply.
Arrange a call with a Bankruptcy Expert
Privacy Policy
Your information will be held in strictest confidence and used to contact you by our internal team only. We will never share your details with any third party without your permission.