Medical Doctor – Can I go Bankrupt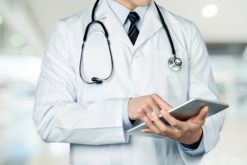 A doctor can go bankrupt and continue to practice. The General Medical Council (GMC) has no rule preventing it.
Can you go Bankrupt if you are a Medical Doctor?
Can an NHS Doctor go Bankrupt?
What if you are working in Private Practise?
Want help to go bankrupt? Give us a call (0800 044 3194) or complete the form below to speak to one of our experts
Can you go Bankrupt if you are a Medical Doctor?
If you are a medical doctor in England & Wales it is possible for you to go Bankrupt and continue to practice. You will not be automatically suspended from the General Medical Council (GMC). There is only a risk of this where your bankruptcy reveals evidence of some related professional misconduct.
Because bankruptcy does not generally involve professional misconduct it will not normally result in you being suspended. However before deciding to use this debt solution you also need to understand the possible reaction from your direct employer.
Can an NHS Doctor go Bankrupt?
If you are a doctor in an NHS practice you are likely to be employed by a local Primary Care Trust. If you declare yourself bankrupt the Trust as your employer has the right to terminate your contract of employment. However this will not be automatic.
The Trust will consider the circumstances on a case-by-case basis. The decision will normally ultimately lie with the Trust Chief Executive. Given this you should speak to the Chief Executive about your intentions first. You must get their agreement not terminate your contract if you went through the bankruptcy process.
BE Tip: If you are an NHS GP trading as a Limited company either alone or with other doctors you must take advice before declaring bankruptcy. You would have to resign as a director of the company for the period of your bankruptcy.
Can a Doctor working in Private Practice go Bankrupt?
If you are working in private practice your terms of employment are agreed between you and your  patients. Clearly bankruptcy will not result in a contractual reason for you to terminate your agreements with your patients. However if you run your practise as a limited company you would have to resign as a Director.
If you are a sole director then a new director will have to be appointed to manage the business while you are Bankrupt.
BMD Tip: The Medical equipment owned by a doctor for use in their practice is considered to be Tools of Trade. As such they are exempt assets and cannot be claimed by the Official Receiver in bankruptcy.
Arrange a call with a Bankruptcy Expert
Privacy Policy
Your information will be held in strictest confidence and used to contact you by our internal team only. We will never share your details with any third party without your permission.