Tax Credit Overpayments and Bankruptcy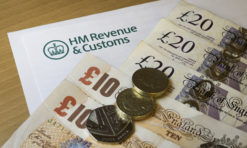 If you have tax credit overpayments HMRC will want the overpaid money back. If you are unable to do this bankruptcy might help.
Jump to article contents:
Want help to go bankrupt? Give us a call (0800 044 3194) or complete the form below to speak to one of our experts
Can Tax Credit Overpayments be included in Bankruptcy?
If you owe money to HMRC as a result of tax credit overpayments it could cause you considerable financial difficulty. HMRC are likely to collect the debt by reducing your future payments.
However even though the debt is owed to HMRC it is still unsecured. As such it can be treated in the same way as any other unsecured debt and included if you go Bankrupt.
Once you are bankrupt HMRC are not allowd to make further deductions from ongoing tax credit payments you continue to be due. You will receive the full payment from then on.
The only time a tax credit overpayments cannnot be included in bankruptcy is if they have been incurred as the result of fraud. Where fraud has been established these debts remain even after bankruptcy.
Is Bankruptcy the right way to resolve Tax Credit Overpayments?
Whether Bankruptcy is the right solution to solve a tax credit overpayments problem depends on your wider circumstances. First you must consider how much you owe to HMRC.
If the overpayment is your only debt and you can repay it within 12 months it may be best to simply agree a repayment plan direct with HMRC.
Where you are unable to afford this rate of repayment you then need to consider other factors such as the total amount of unsecured debt you owe overall and the affect on your home or car.
If the total amount of unsecured debt you owe is less than £20,000 and you are not a home owner you should also consider a Debt Relief Order (DRO).
Can Bankruptcy help with Tax Credit debts if you are a Home Owner?
If you are a home owner you need to think very carefully before going bankrupt. The issue is that your home could be at risk.
If you have little or no equity then bankruptcy could be an ideal solution to help you deal with unsecured debts including tax credit overpayments. However if there is equity the risk to your home increases significantly. You might even be forced to sell.
Given this where you are a home owner with equity it may be better to consider an alternative debt solution such as an Individual Voluntary Arrangement (IVA) or Debt Relief Order.
Arrange a call with a Bankruptcy Expert
Privacy Policy
Your information will be held in strictest confidence and used to contact you by our internal team only. We will never share your details with any third party without your permission.