What happens to car finance if I go bankrupt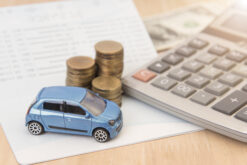 If you have car finance you may be able to keep your vehicle if you go bankrupt. However are also other options you can consider.
Included in this article:
Rather speak to a person? Call us on 0800 044 3194 or complete the form below and we'll call you
Can you carry on paying for your car finance if you go bankrupt?
Car finance is secured on your vehicle. Secured debts are not included in Bankruptcy so this debt is not automatically written off by the process. It is therefore possible to keep the car if you want to as long as you can afford the monthly payments.
You will need to declare the net value of the car in your application. This is the current second hand value (normally based on a valuation from We Buy Any Car.com) less the total finance outstanding. Where this net value is £1000 or less the Official Receiver will have no interest in the vehicle. They should therefore be happy for you to keep it as long as the monthly payments are not too high.
Before going bankrupt you must speak to your car finance company and check that they will allow you to keep the car if you go bankrupt. Many finance companies will be fine as long as you maintain the payments. However there are some who will automatically demand the return of the vehicle.
If the net value of your car (second hand value less outstanding finance) is greater than £1000, you will only be able to keep it if you pay the difference to the official receiver.
Is it possible to hand the car back and write off the debt?
You may no longer want to keep your car. Alternatively, perhaps you simply cannot afford to keep up the payments. In these circumstances you can stop paying the finance before you go bankrupt.
Of course the finance company will then demand the return of the vehicle. It will be sold (usually at an auction), and you will still be liable to pay any outstanding money owed. However this debt is now unsecured. As such it will be included when you go bankrupt and written off with everything else you owe.
If you still need a car you can buy a cheap replacement as long as you spend no more than £1000 or less. You will be allowed to keep this once you are bankrupt. Alternatively someone else could buy a more expensive vehicle which you then borrow from them.
It might be possible to take out a new finance agreement on a less expensive vehicle before going bankrupt. However you must not do this without first taking advice. Call us for more information (0800 044 3194).
Can you get car finance while you are bankrupt?
Getting a new car finance agreement during the year you are bankrupt is usually impossible. The only option during this time would be for someone you know to take out the finance in their name (such as your partner or a family member).
Once you are discharged however, there may be a number of sub prime lenders who will consider you. Such lenders are normally prepared to lend to people who have a poor credit rating. Whether or not they will lend to you immediately after you are discharged is difficult to say as lending criteria change all the time. However it is worth enquiring.
If you apply for car finance and are refused you will have to wait until your credit rating starts to improve. Ideally you should start using a so called credit repair credit card. Using this tool for 6-12 months after the date of your discharge will often improve your credit rating sufficiently for sub prime car finance lenders to consider you.
You are unlikely to qualify for car finance from a main stream manufacturer such as VW Finance or Ford Credit until the record of your bankruptcy has come off your credit file – 6 years from the start date.
Arrange a call with a Bankruptcy Expert
Privacy Policy
Your information will be held in strictest confidence and used to contact you by our internal team only. We will never share your details with any third party without your permission.