Rented Property and Bankruptcy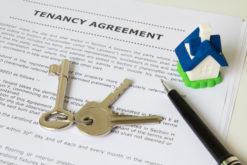 If you live in a rented property there is nothing to stop you going bankrupt. However you may be worried about how your home will be affected.
Jump to article contents:
Want help to go bankrupt? Give us a call (0800 044 3194) or complete the form below to speak to one of our experts
How is your Rented Property affected if you go Bankrupt?
Going bankrupt can be a good way of dealing with your debts if you are renting your home. This is because your rented property is not treated as one of your assets.
There is no risk to the property itself because it is not yours. As such it is not involved in your bankruptcy in any way.
You may be worried that the negative affect on your credit rating could somehow blacklist the property. This will not happen. Your poor credit does not rub off on the place you live.
Debt problems can be a common problem for renters. During 2015 the debt charity StepChange found that 75% of the people they worked with were not homeowners.
Will your Landlord be told if you go Bankrupt?
It is unlikely that your landlord will be told about your Bankruptcy. Normally this will only happen if you have rent arrears. They would then be a creditor and the Official Receiver would have to speak to them.
Given this the only way they are likely to find out is if you tell them or they do a new credit check on you. However it is unlikely for this to happen even if you are planning on renewing your tenancy agreement.
If you are worried about your landlord discovering your bankruptcy you could tell them yourself. Their natural reaction will be to worry about the rent and the affect on their property. However you can reassure them that there will not be a problem with these things.
If you live in England, Wales or Scotland bankruptcy is not advertised in your local newspaper. If you live in Northern Ireland it is advertised in the Friday edition of the Belfast telegraph. As such in Northern Ireland your Landlord could find out.
Can you move to a different Rented Property while Bankrupt?
There may be a number of reasons why you need to move to a new rented property while you are bankrupt. Perhaps you have changed your job or you need a different sized home.
There is nothing to stop you moving. However you will need to consider how much rent you can afford to pay. It may not be possible to rent a more expensive property unless your income is also increasing.
If you are making a payment towards your debts the Official Receiver may agree to reduce this to compensate for an increase in rent. However they will only be likely to do so in exceptional circumstances.
Any deposit you paid when you first rented your property is one of your assets. In theory it has to be paid to the Official Receiver if and when you get it back. However if you move you are allowed to use it to pay for a new deposit.
How can you overcome a Rented Property credit check?
A major issue you will face if you want to move during or after your Bankruptcy is your Credit Rating. Before you can rent a new property most private landlords will carry out a credit check against you. You are likely to fail this.
There are really only two ways you can overcome the problem. The best is usually to offer that someone will act as a guarantor for your rent payments. Most landlords will be happy if a guarantor is provided.
Another option is to pay rent in advance. Generally speaking you would need to offer at least 6 months upfront. Clearly you may not be in a position to do this.
If you are moving to a Council or Housing Association property the fact that you have a poor credit rating should not be a problem. You will not normally need to pass a credit check before you can move in.
Arrange a call with a Bankruptcy Expert
Privacy Policy
Your information will be held in strictest confidence and used to contact you by our internal team only. We will never share your details with any third party without your permission.