I have been made bankrupt – What should I do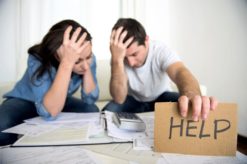 One of your creditors could make you bankrupt. If this happens acting quickly and taking the right advice will give you the best chance of protecting yourself and your family.
Included in this article:
Have you been made bankrupt? Call us on 0800 044 3194 or complete the form below.
What happens when you are made bankrupt?
Any creditor is allowed to apply to make you bankrupt if they are owed £5000 or more. They first have to issue a statutory demand. If this does not result in an agreement to repay their debt, they can then petition for your bankruptcy.
If the petition is accepted and issued, a date is set for a court hearing. A Judge will decide at the hearing whether to make you bankrupt. They will do unless you can successfully show you do not owe the money or you can pay but just need a little more time.
A day or two after you are made bankrupt your name is added to the Insolvency Register. You will then be contacted by the Official Receiver who is assigned to manage your case.
The main creditors who are likely to make you bankrupt are HMRC, business creditors or individuals you own money to. Banks and credit cards are unlikely take this type of action.
After you are made bankrupt what can you expect from the Official Receiver?
Your bankruptcy will be managed by a government official called the Official Receiver (OR). They usually contact you within a week or so of you being made bankrupt.
You will have to complete a in depth questionnaire (PIQB) about your circumstances. This requires information about your debts, income, expenses and assets. You will also have to attend a face to face interview at the OR's office.
The OR's main role is to establish is you have any assets which can be sold for the benefit of your creditors. Your home and car will be of particular interest to them. They must also find out if you can afford to make ongoing payments towards your debts.
Want assistance with dealing with the Official Receiver? Talk to us on 0800 044 3194 or complete the form below.
Is it possible to overturn or annul bankruptcy?
After you have been made bankrupt, it might be possible to reverse the situation. If you are able to raise sufficient funds to pay the debt in full you can annul the bankruptcy. Where you are a home owner there are lenders who might help you release equity from your property to achieve this.
Alternatively you might be able to make an offer to pay back more than if you remain bankrupt. Making such an offer might be possible with an IVA.
Remember, if you are not a home owner or the equity in your property is less than the total amount you owe, bankruptcy might actually be the best way of dealing with your debt.
If you want to try and annul your bankruptcy you must act quickly. After being passed to a Trustee the process will be more difficult and costly. Get in touch with us if you want to discuss this.
Arrange a call with a Bankruptcy Expert
Privacy Policy
Your information will be held in strictest confidence and used to contact you by our internal team only. We will never share your details with any third party without your permission.