Debt Relief Order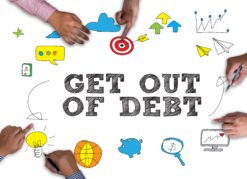 A debt relief order gives the same outcome as bankruptcy. However it is much cheaper to implement.
Jump to article contents:
Want help to go bankrupt? Give us a call (0800 044 3194) or complete the form below to speak to one of our experts
What is a Debt Relief Order?
A Debt Relief Order (DRO) is an individual debt solution designed to help people who have few assets and will struggle to repay what they owe. I gives virtually the same outcome as going bankrupt.
Once it is in place virtually all your unsecured debt is taken away. You no longer have to make any payments to your creditors. It lasts 12 months after which you are discharged and all your debt is written off.
One of the key advantages is the low application fee which is just £90. The cost of bankruptcy is far higher.
Debt Relief Orders were introduced into the law in 2009 as a cheaper alternative to going Bankrupt.
Who can Apply for a DRO?
Not everyone can apply for a Debt Relief Order. There are 4 strict qualification criteria which must be met before you can apply.
Total debt must be below £20,000
Your total unsecured debt must be no more than £20,000. You must include all your debts including any CCJs, benefits over payments and rent arrears.
You cannot be a Homeowner
If you are a homeowner you cannot apply for a DRO. This is the case even if your property is in negative equity. The solution is only available no people who do not own property.
Second hand value of your assets must be less than £1000
Your belongings should not be worth more than £1000 in total. This may not seem a lot but in reality the second hand value of most household goods is very low. In addition to your household belongings you are allowed to own a car as long as it is worth less than £1000.
Disposable Income must be £50/month or less
You do not necessarily have to be on a low income to qualify for a DRO. However your disposable income most be less than £50. This is the amount left over from your monthly income after all reasonable household expenses have been deducted.

Most unsecured debts can be included in a DRO. This includes rent and council tax arrears and Tax Credit over payments owed to HMRC
How to get a Debt Relief Order
The Debt Relief Order application process is different to Bankruptcy. You cannot submit the application yourself. You need the help of an Approved Intermediary.
The Intermediary will first need to establish that you meet the qualification criteria. They will need a proof of all your debts (get a copy of your credit file if you are not sure who you owe money to). In addition they will need proof of your income such as wage slips and benefits statements.
They will then complete the application form on your behalf. Once your your £90 fee is paid (normally at the Post Office) the application will be submitted to the Official Receiver (OR). If you meet the criteria it is unlikely your DRO application will be refused.
One of the best places to go to get a DRO is your local Citizens Advice. However you can also approach organisations like StepChange and PayPlan.
What if your Circumstances Change during a DRO?
Once it is approved a Debt Relief Order remains in place for 12 months. This is sometimes referred to as the moratorium period. During this time if your financial circumstances improve significantly you need to tell the Official Receiver.
Your income may go up or your living expenses may fall and as a result your disposable income increases to more than £50/mth. Alternatively
you could get a windfall of more than £1000.
In these circumstances the OR may have to cancel your DRO. You will then still have to repay all the money you originally owed.
Your DRO is likely to be unaffected by minor increases in income such as an annual pay increase.
Arrange a call with a Bankruptcy Expert
Privacy Policy
Your information will be held in strictest confidence and used to contact you by our internal team only. We will never share your details with any third party without your permission.