Debt Management Plan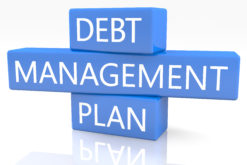 A debt management plan is an informal agreement with your creditors to reduce your monthly payments to an amount you can afford.
Jump to article contents
Want help to start a Debt Management Plan? Give us a call (0800 044 3194) or complete the form below to speak to one of our experts
What is a Debt Management Plan?
The debt management plan (DMP) is one of the most common debt solutions. It is an agreement with your creditors to reduce the monthly payments you make to an affordable amount.
The agreement is informal. As such it is not legally binding and gives a degree of flexibility. You can increase your payments at any time or stop the plan and manage your debts in a different way if you wish.
Unlike bankruptcy where debt is written off, in a DMP you still have to pay back 100% of the balances you owe. As such the Plan could last a long time unless you negotiate early settlements or manage to increase the payment amounts.
Your credit rating is negatively affected if you start a Debt Management Plan even though it is informal. Creditors will normally issue you with default notices which remain on your credit file for 6 years.
When should you use a DMP?
A Debt Management Plan may be suitable for you depending on your circumstances. It can be ideal if all you need is a short term breathing space from your creditors. Once your financial situation improves you can then increase your payments and repay your debt faster.
If you are a home owner you may be concerned that about the risks to your property of a more formal solution such as bankruptcy. Your property is not involved if you use a DMP and you are not obliged to release equity.
Most types of personal debts such as loans, credit cards, payday loans and overdrafts can be included. However it can be difficult to include other types such as money owed to HMRC and CCJs.
If the amount you can afford to pay each month is small relative to the size of your debt (meaning your DMP could last a long time) it may be in your interest to consider going Bankrupt or an IVA.
How to get a Plan started
There are two ways to get a Debt Management Plan. You can negotiate the agreement direct with your creditors yourself. Alternatively you can chose to use a debt management company.
Some people like to negotiate with their creditors themselves. However using a company can save you a lot of time. Some organisations such as Step Change will implement and manage a Plan for you for free. Commercial companies will deduct a monthly fee from your payment.
Using a debt management company allows you to pay a single amount each month. They then distribute this to your creditors on your behalf which will help you to budget and ensure each creditor is paid on time.
If you are self employed or living outside of the UK you cannot use the free service from Step Change. If you want assistance you will need to pay a commercial company.
How much will a Debt Management Plan Cost?
The cost of a Debt Management Plan will depend on how you chose to implement it. If you decide to negotiate and manage the plan yourself it will cost nothing other than your time.
Using a free service such as that provided by Step Change will also cost you nothing. As such unless you are self employed or living outside the UK it may be best to use this unless you want a more personal service.
A commercial debt management company will deduct a management fee from the monthly payments you make (normally around 17%). As a result your debts will be repaid more slowly.
Thinking about starting a Debt Management Plan? For a Give us a call (0800 044 3194) or complete the form below to speak to our experts.
Arrange a call with a Bankruptcy Expert
Privacy Policy
Your information will be held in strictest confidence and used to contact you by our internal team only. We will never share your details with any third party without your permission.