Debt Consolidation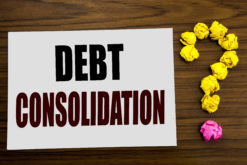 Debt consolidation allows you to combine a number of smaller debts into a single loan. It can be a sensible option if your debts are not too large and your credit rating is good.
Jump to article contents:
Want further advice about managing your debt? Give us a call (0800 044 3194) or complete the form below to speak to one of our experts
What is Debt Consolidation?
Consolidating debt involves paying off your debts with a single loan. Doing this can give a number of benefits. Firstly it is much easier to manage one loan payment rather than having to remember to pay a number of smaller accounts every month.
This solution is also likely to reduce your monthly payments so that they more easily fit into the budget you can afford. Your new loan payment will should be smaller than the total of all the old debt payments added together.
In addition you are charged a fixed amount of interest. This means you will save money compared to continuing to repay debts where interest is added monthly such as credit and store cards.
Debt consolidation is the only debt management solution that will not negatively affect your credit rating as long as the new payments are made on time.
When is Consolidation a Sensible Debt Solution?
There are a number of factors to consider before choosing to consolidate debt. Firstly can you borrow enough to consolidate all your outstanding debts? If you can't some of them will remain unpaid. These monthly payments together with the new loan may be unaffordable.
You need to check that your disposable income comfortably covers the new loan payments. If it doesn't you would have to continue borrowing each month to make ends meet. Faced with this possibility you would be better off using a different solution such as bankruptcy.
To consolidate you normally need a good credit rating. This will give you the best chance of getting the size of loan being you need at a sensible rate of interest. If your credit rating is poor you are unlikely to be able to borrow more and consolidation is probably not for you.
Make sure you are willing to cancel the accounts you consolidate. Otherwise you might be tempted to use them again in the future and end up in an even worse debt.
The Different Ways to Consolidate Debt
Debt consolidation will require you to get a loan which is large enough to pay off all your other outstanding debts. There are two ways you can achieve this.
The most common option is apply for an unsecured bank loan. If you have a good credit rating you could borrow up to £25,000 like this. The down side however is that such loans normally have to be repaid within 5-6 years meaning the monthly payments can be relatively high.
If you are a home owner with equity in your property it might be possible to remortgage or get a secured loan for consolidation purposes. An advantage of this is the debt is repaid over a long period and so the additional monthly payments tend to be lower than an unsecured loan.
Remortgaging means securing additional debt against your property. Make sure your new monthly payments are affordable or your home could be at risk.
Arrange a call with a Bankruptcy Expert
Privacy Policy
Your information will be held in strictest confidence and used to contact you by our internal team only. We will never share your details with any third party without your permission.